A dialogue on systemic manifestation of racial superiority: SUPREMACISM
June 24, 2021 @ 7:00 am

-

8:30 pm

Free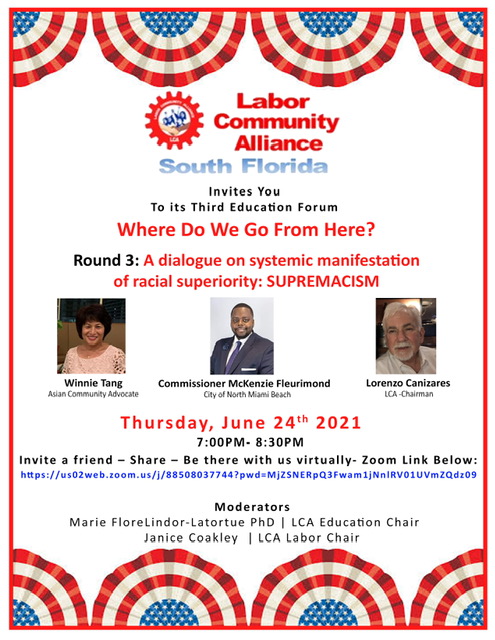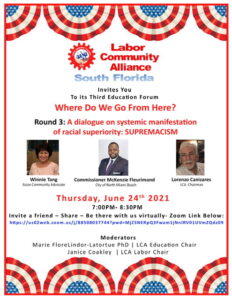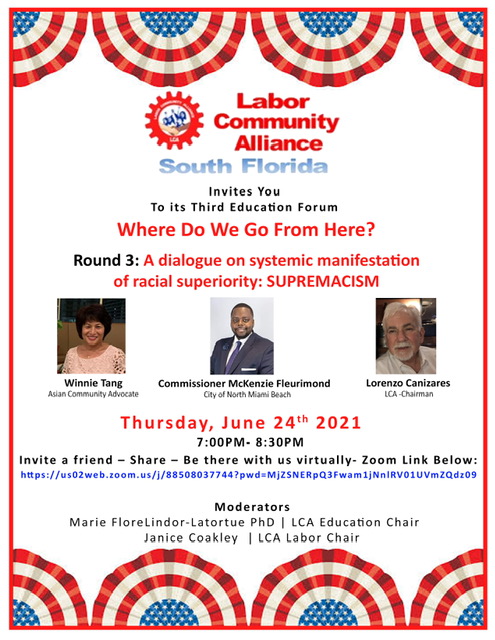 (Miami/Broward) – The Labor Community Alliance presents its Third educational panels for the year 2021, online via Zoom on June 24, 2021 at 7 pm. The topic addressed will be, "What does it mean to be a Progressive?" The purpose of the Forum is to have a dialogue on systemic manifestation of racial superiority: Supremacism. begin to dispel misconceptions and myths about what the word progressive really means. This dialogue will do a deep dive into the effects of racism and racial superiority from a socio-economic perspective and hone in on ways to establish equitable practices to "bridge the gap" in measurable ways.
The panel is composed of a diverse group of knowledgeable people who can offer their particular view on the subject. Esteemed panelists include Lorenzo Canizares who is a retired labor/community organizer that worked 40 years in the Northeast. His last stop was for 12 years with the Pennsylvania State Education Association. Mr. Canizares moved back to Miami in 2013. Became Facilitator to Awake Miami, a few months after arriving in Miami. Currently he serves as Co-Coordinator of the Labor-Community Alliance of South Florida (LCA).
Winnie Tang, serves the Chinese, Asian and the community-at-large in South Florida and beyond, with various leadership roles. Her greatest achievements and contributions have been her volunteerism and non-profit work with ethics. Recently, Winnie started another new milestone: to produce and host the first-ever Asian-Operated radio show-ACE Talk to promote dialogue exchanges with a unified voice to encourage active civic engagement and to enrich community experiences in Florida and beyond.
McKenzie, Fleurimond seats in the North Miami Beach Commission. He is the liaison for the economic development Board, Recreation committee, the Police and the Fire retirement board. At 27 years old, he was one the youngest to ever serve North Miami as an appointed council member from 2010-2011, however he was elected in 2020.
This event is a collaborative effort between the Labor Community Alliance, Democratic Progressive Caucus PBC, the members and panelists who agreed to graciously contribute their time and expertise.
The Labor Community Alliance is a grassroot/movement built by a diverse group of people united to defend and protect Democracy while advocating a progressive standard of living for all. Its mission is to support and foster unity amongst forward looking people. For further information contact LCA President/ Chair, Lorenzo Canizares, email: , info@laborcommunityalliance.org